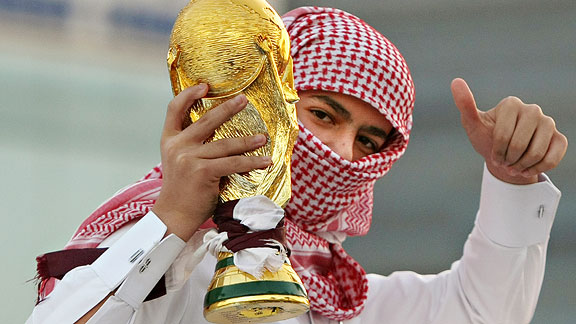 Marwan Naamani/AFP/Getty ImagesA Qatari youth holds a mock trophy after FIFA announced that the Gulf state will host the World Cup.
Qatar?
Seriously?
It was a strange and exciting week in sports, what with Auburn and Oregon clinching berths in the BCS Championship Game while both TCU and the Rose Bowl tried to understand why TCU will be in the Rose Bowl. And General James marched through Cleveland and burned it to the ground. But nothing was as strange as a tiny country that sounds like a Scrabble word crushing the United States of America by being chosen as host for the World Cup soccer games in 2022.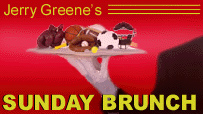 ABC's Jimmy Kimmel said we should have seen this coming, adding: "This is not the first time the United States was beaten out by Qatar. The first was in the Most Sand Competition."
Now a few quick tidbits because we've got some excellent links about the NFL and other topics in the main section of the Sunday Brunch so stick around.
• The Denver Broncos were fined $50,000 for an illegal taping of a San Francisco 49er practice in London -- Should the Broncs been fined twice that for losing after the illegal taping?
• Would the sources that swore Jon Gruden would be the University of Miami coach please leave your "source" credentials at the door on your way out?