Nate Colbert usually is known for two things. One, he once hit five home runs in a doubleheader. Two, ballplayers of his era supposedly thought he looked … well, funny.
In "Ball Four," Jim Bouton wrote that Astro Doug Rader went up to Colbert before a game in 1969 and said, "Hey Nate. I think you're cute. Not ugly, cute. Like an iguana."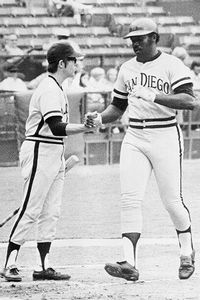 AP Photo/CEKNate Colbert's Padres home run record still stands after 36 years.
So why do we care? Because four decades later, the Curse of the Iguana has claimed another victim in San Diego.
Thirty-six years after Colbert hit his 163rd home run for the Padres, that team record still stands -- tied for the sixth-oldest team HR record (and yet third-puniest). And now that the Financially Frugal Friars have traded Adrian Gonzalez (who was just two shy of the team record with 161) to the Boston Red Sox, it may stand forever. It's not the Curse of the Bambino, but there has been a protective hex around Big Nate's record. Consider:
• Hall of Famer Dave Winfield hit 154 by age 28, then left as a free agent after the 1980 season.
• Phil Nevin, with 156, was poised to be No. 1 when he was traded in midseason of 2005.
• Gonzalez was traded because the team admitted it wouldn't be able to sign him to a long-term deal when his contract ran out after 2011.
So who on the roster has the most homers as a Padre? Scott Hairston, with 44, was not offered a new contract, so he's gone, too. Your new leader? Chase Headley with 32.