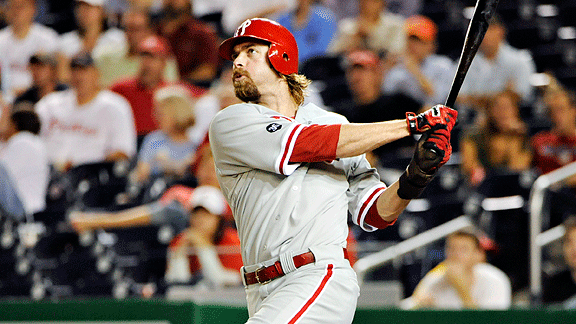 Howard Smith/US PresswireWith $126 million in guaranteed money coming, Jayson Werth can afford a really nice goatee trimmer.
Did the Washington Nationals exercise sound fiscal judgement in signing free agent right fielder Jayson Werth to a seven-year, $126 million deal? Play the below match game to find out!
Deal
1. Jayson Werth to Nationals, $126 million
2. Albert Haynesworth to Washington Redskins, $100 million
3. Barry Zito to San Francisco Giants, $126 million
4. R.E.M. to Warner Bros. Records, $80 million
5. Time Warner to AOL, $182 billion
6. 2004 Olympics to Athens, $15 billion
Dealmaker Quote
a. "It's a lot of money, but honestly, I put a lot more pressure on myself than what the contract will do."
b. "We're still just scratching the surface."
c. "A great wave of joy is blowing over."
d. "When two rival GMs in your own division are saying that you overspent, you must be doing something right."
e. "This is a watershed moment ... an incredible new beginning."
f. "Everybody in the organization [is] ... besides themselves for what this means for the organization."
Answer key: 1, d, from Nats GM Mike Rizzo; 2, a, from Haynesworth; 3, f, from Giants GM Brian Sabean; 4, e, from Warner president Steven Baker; 5, b, from AOL chief Steve Case; 6, c, from Athens deputy mayor Dimitris Papavassiliou.
Source: Lexis-Nexis