This is your Pregame Flyover of the Colts-Titans Thursday night contest in Nashville, Tenn., a make-or-break game for the only two teams that have ever won the AFC South. Granted, Indianapolis should never have been placed in a southern division, but the NFL cares about geographical accuracy about as much as it cares about the impact on players if the league switches to an 18-game schedule.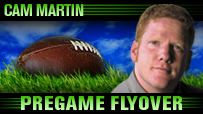 Perhaps a title change is in order: The Titans have lost five in a row and haven't scored a touchdown in their past 13 quarters. After Sunday's loss to Jacksonville, former Titans running back Eddie George said the team lacked effort. Considering the Cowboys and Vikings are a combined 5-1 since replacing Wade Phillips and Brad Childress with interim coaches, perhaps Titans owner Bud Adams should tell Jeff Fisher his new title is "interim head coach." It would probably help motivate Fisher and his team; and it'd probably be a more accurate description, anyway.
Reigning MVP stepping down: Given his recent performance (11 interceptions over the past three games), Peyton Manning has decided to end his campaign to win a fifth NFL MVP award.
Cortland Finnegan reminds teammates of Walter Payton: Due to his contributions off the field, the Titans recently voted Finnegan as the team's 2010 Walter Payton Man of the Year. Finnegan, whose ARK 31 Foundation benefits children with special needs and disabilities, was eligible because getting beaten down on national television by Andre Johnson is not a mitigating factor in winning this award.
A matchup of extremes: Neither of these teams is well-balanced; both have glaring weaknesses. The Colts are last in the league in rushing offense, while the Titans are second to last in passing offense. The Colts' defense is allowing 4.8 yards per carry, which is second-worst behind the Redskins. Meanwhile, the Titans average the lowest time of possession in the NFL (25:32 minutes per game). In short, the Colts can't run the ball or stop the run, while the Titans can't pass the ball or hold onto it. Game prediction: Chris Johnson will rip off three or four 80-yard touchdown runs and Titans defensive backs will have to decide how they want to divvy up Manning's four interceptions.
First matchup of the year:These teams meet again in Week 17. By then the Titans might have Randy Moss back from his record-setting bye, which is now at five weeks and counting.