If Carlos Gonzalez Jr. doesn't fulfill his dream of playing in the NBA, the 13-year-old just might have a successful career as a motivational speaker.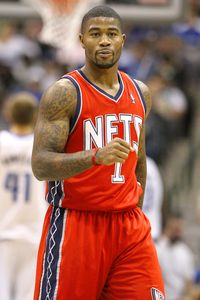 AP Photo/Tony GutierrezTerrence Williams scored six points Thursday in his return to the NBA.
After all, his words of wisdom certainly humbled New Jersey Nets swingman Terrence Williams.
Williams, 23, had just been sent down to the NBA D-League's Springfield (Mass.) Armor -- punishment for being late to Nets practices, shootarounds and meetings -- when he encountered Gonzalez, an Armor ballboy.
Gonzalez was eager to meet Williams, one of his favorite players. He also couldn't understand why Williams would put himself in a position to be demoted.
Gonzalez believed he had to say something.
"I was nervous," said Gonzalez, who approached Williams before his first game with the Armor. "But I just wanted to help him. I thought to myself, 'Wow I'm actually meeting an NBA player, and I wanted to give him a heads up.'
"I told him, 'You made a mistake and you shouldn't feel like you're down here because you're not a good ballplayer. You need to learn from it.' If I was him, I wouldn't want to be down here. I'd do anything to stay in the NBA.'"