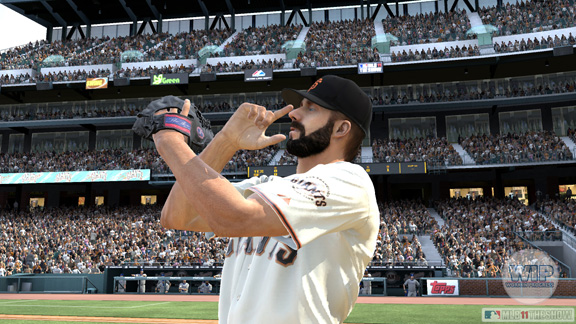 SonyBrian Wilson's trademark beard (and celebration) have made it into "MLB 11: The Show."
Fear the beard.
That's the rallying cry that led the Giants to their first World Series title since moving to San Francisco. And as a guy who grew up going to games at Candlestick with his dad, the virtual collection of misfits and (more importantly) champions was the first thing I wanted to see when I turned on "MLB 11: The Show."
And I wasn't disappointed.
From Brian Wilson crossing his arms into an X and pointing to the sky in celebration after a save to the way Tim Lincecum's hippie hair flaps in the wind to Pablo Sandoval's quirky walk-up animation to the cyber kayakers in McCovey Cove, the Giants received an overhaul worthy of their new status as diamond kings.
Only thing missing is a cheat code to unlock The Machine.
Then again, "The Show" is rated E for everyone, so Brian Wilson's masked sidekick will need to stay in the background for at least another year.
But don't think the team at Sony's San Diego studio stopped at just upgrading the champs. "MLB 11: The Show" is anything but a roster update with a few new custom animations thrown in to fool consumers that this game is something new. In fact, this might be the biggest jump in terms of both control and game-play enhancements the series has ever attempted in a single year.