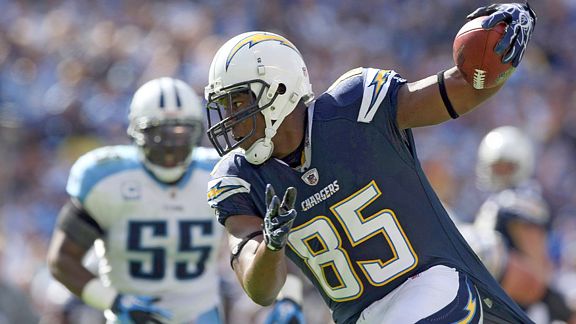 Donald Miralle/Getty ImagesAntonio Gates has 69 touchdowns since 2003. Hall of Famer Kellen Winslow had 45 in nine seasons.
Antonio Gates is one of the most talented athletes ever to play tight end in the NFL.
Much has been written about the fact that he played college basketball instead of college football and helped lead Kent State to the Elite Eight in the 2002 NCAA tournament.
Although his 6-foot-4 frame was too small to turn the heads of NBA scouts, his superb footwork, soft hands and natural ability famously landed him a job with the San Diego Chargers in 2003.
So although we can't update you on his nagging foot injury, we can tell you he played point guard at times on his AAU team ... and that he wanted to play football for Nick Saban and basketball for Tom Izzo at Michigan State.
Gates visited ESPN recently, and Page 2 asked him about playing the point in a power forward's body, his musical tastes, his perceived feud with former teammate LaDainian Tomlinson and more.
Here's what transpired:
Page 2: Your children live back in your hometown of Detroit. How difficult is it not to have as much time with them as you would like?
Gates: There are some things you won't get back. You know, when my son rode his first bike and when my daughter rode her first bike. Taking 'em to school, dropping 'em off. My son started playing Pop Warner football this year. Those are the moments I miss the most. ... They watch every game. I speak to 'em on the phone, and sometimes I punish 'em from a distance. ... But missing 'em growing up, like the first time their teeth come out. Those are the things you won't get back."
Where's the better place to spend time in San Diego -- Gaslamp Quarter or Pacific Beach?
They're both wonderful places. You can't go wrong either way. Me personally, downtown is more of a city, and I'm more of a city kid. So, the beaches are still wonderful. You can't go wrong with the beaches, but I've never been crazy about getting into the water.