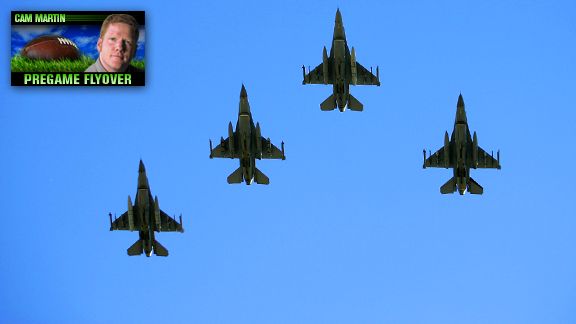 AP Photo
This is your Pregame Flyover for Week 15, that point in the NFL season when teams scratch and claw for a playoff spot and Panthers fans hope Jimmy Clausen doesn't do something stupid, like ruin their shot at the No. 1 pick. Before we get to the enticing slate of games -- and tell you which games will probably be worth watching, which games will be of questionable worth, which games will be of doubtful worth, and which game will feature the best two franchises in Ohio -- let's look at teams that have never demonstrated championship mettle.
Five teams still have a shot to be first-time Super Bowl champions.
The NFL touts itself as a paradigm of parity, yet 14 teams -- nearly half the league -- have never won the Super Bowl, a topic we first explored in Week 7 and Week 8 as we charted the 2010 narratives that would allow those teams -- 7 in the AFC, 7 in the NFC -- to become a first-time champion this season. Well with three weeks left in the season, the dream has ended for more than half of them, with the Chargers, Jaguars, Eagles, Falcons and Seahawks the only title virgins still in the playoff picture; the Bills, Bengals, Browns, Cardinals, Vikings, Lions, Panthers, Titans and Texans are all finished. What, the Titans, Cardinals and Texans are not technically eliminated? Well don't tell their fans; it's not polite to give people false hope, particularly around the holidays.
To assure a first-time champion in 2010, there are a limited number of possible Super Bowl matchups. They are Chargers/Eagles; Chargers/Falcons; Chargers/Seahawks; Jaguars/Eagles; Jaguars/Falcons and Jaguars/Seahawks. Safe to say the Jaguars/Seahawks game would be the lowest-rated Super Bowl in history. And that the last two minutes of the Chargers/Eagles game would become a case study among NFL coaches for years to come, regardless of who has the ball last. The Jaguars/Eagles game would be the first Super Bowl to feature two African-American starting quarterbacks, raising the odds that one of them will be asked how long they've been a black quarterback. The Chargers/Seahawks game would be the second-lowest rated Super Bowl in history. And the Chargers/Falcons game would probably be the best matchup of all. You know, on paper, where the Chargers have won multiple Super Bowls.