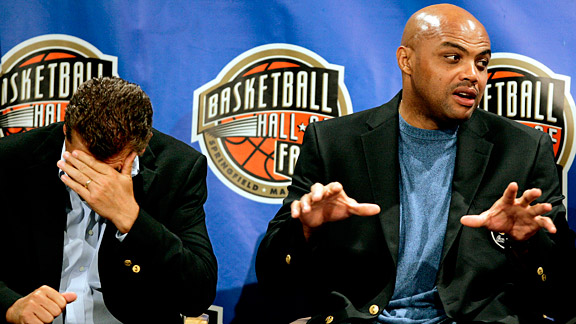 AP Photo/Stephan SavoiaSir Charles always tells it like it is -- whether you like it or not.
Charles Barkley joined The Roundtable on WJOX in Birmingham to talk about the holiday season, the BCS, Auburn and Brett Favre.
On his thoughts on the holiday season:
"I'm not a big Christmas person because people are just greedy pigs. Everybody wants something. I'm a firm believer that you shouldn't get people anything after they're 18 except for cards. Certainly somebody in my situation, everybody wants stuff. But I'm a firm believer that once you ... it's about the kids, it should always be about Santa Claus and the kids ... but I think once you're out of high school, you should just be able to give somebody a card. Because people just get so greedy and you just waste so much money over the holidays. I think you should only give gifts to kids."
On Mark Cuban exploring a BCS alternative with his deep pockets:
"Well we need to do something. You know I hate the BCS system. Everybody's patting themselves on the back because Auburn and Oregon -- it worked out good this time. It didn't work out good for TCU, Stanford and all those other teams. I hate the BCS. The simple fact that you have to go undefeated is ridiculous to me. There are a bunch of good teams, I think Oregon and Auburn are the two best teams. But you look at Stanford, you look at TCU, there are a bunch of good teams out there. I just hate the BCS. It's got the two good initials -- the B.S. But I hate the BCS in general. And Mark, Mark's a good dude. We need to do something to fix college football because like I said, it worked out great this year. But Auburn's gotten screwed by the system before, it worked for them this year so they're not complaining but I just hate the BCS in general."
On Gene Chizik taking the high road and not doing a 'I told you so' to those who doubted him when he got the job:
"Well I have a respect for the job he's done. He's done a fantastic job. But let's be realistic, the criticisms were fair. You know, I got a lot of blame, but I never said a bad thing about Gene Chizik. But the thing is, they kind of made me the guy who was bashing Gene Chizik and that's not true. You know it's funny, I was watching a show two or three weeks ago, and the people that were screaming at Gene Chizik when he came to town, that was funny, that was funny. Gene Chizik has done a great job, a great job. But part of being in the limelight is number one, people are against you. That's just the way it is. But when Gene Chizik got the Auburn job, I don't think those criticisms were unfair. I mean he was 6-19 at Iowa State and was on a 10-game losing streak. That's not the person ... I mean, it worked out perfectly for Auburn but I think the criticism he got when he got the job, it was founded. But the truth of the matter is he's done a great job and we got to say he's done a great job. I just hope he keeps it going because we haven't won a championship since 1957. That's when you were young. I think."
On his thoughts on the Brett Favre sexting scandal:
"My biggest problem with the whole Brett Favre thing is if you're going to send a woman a picture of your junk, it should be huge. You can't send small junk to a woman and expect anything. Seriously you have to be like Ron Jeremy or some of those other porn stars. If you send a woman a picture of your junk, it should be humongous, it shouldn't be small. That's one of the Ten Commandments."
• Click here for a transcript of highlights from the interview