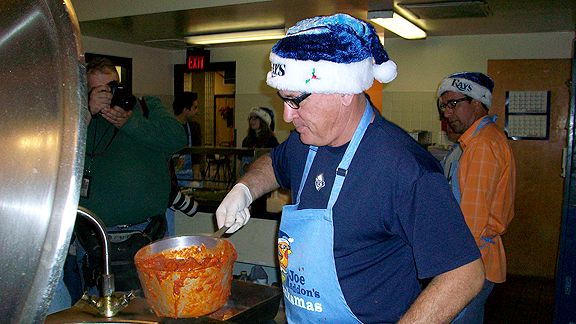 Joel PoileyTampa Bay Rays manager Joe Maddon serves up his spaghetti for the homeless in the Tampa area.
TAMPA -- You wouldn't expect Tampa Bay Rays manager Joe Maddon, he of the different lineup every game, to cook his annual Italian/Polish dinner for the homeless using a precise recipe.
Maddon cooks like he manages -- a dash of this, a pinch of that, his own intuition and plenty of holiday spirit.
In Maddon's kitchen you won't find a measuring cup or spoon.
"It's all feel and taste," Maddon said, smiling. "You put it all together and take a spoonful and if it's right, it's right. You can't subtract, so you have to be careful what you put in."
For the last five years, Maddon has been cooking a giant holiday dinner, coined "Thanks-mas" for the homeless at Salvation Army locations from Tampa to Fort Meyers.