Brett Favre's consecutive starts streak ended earlier this month and he was knocked out of Monday's game against Chicago, prompting plenty of looks to the past and some new memorabilia for fans to chase -- some directly from the future Hall of Famer himself.
Favre hadn't missed a start since Sept. 20, 1992, eons ago in both the football world and in memorabilia. When he last missed a game, his 1991 Stadium Club rookie card went for a whopping $2.75.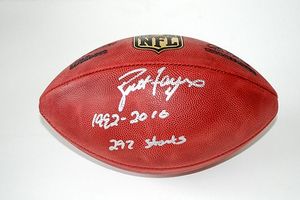 www.officialbrettfavre.com This ball signed by Brett Favre will cost you $499.99, and a portion will go toward charity.
Now, 500-plus touchdowns and a few retirements later, it's been up and down but is presently settled in at $50.
Not long after Favre was announced as inactive for what would have been his 298th consecutive start, he was hocking autographed streak footballs on his website, officialbrettfavre.com.
For $499.99, fans can get an official NFL ball signed with the inscriptions "1992-2010" and "297 starts." A portion from each sale goes to the Favre 4 Hope Foundation. A signed ball typically sells for $449.99 on his site.
Back in 1992, there were several companies producing NFL-licensed cards -- Action Packed, Topps. Fleer, Upper Deck, Pacific, Score and Pro Set to name a few -- but Favre has outlasted all of them except Topps, which survived a scare last winter losing and then regaining its license, and newcomer Panini America.
What will happen to Favre's memorabilia when he officially calls it quits?