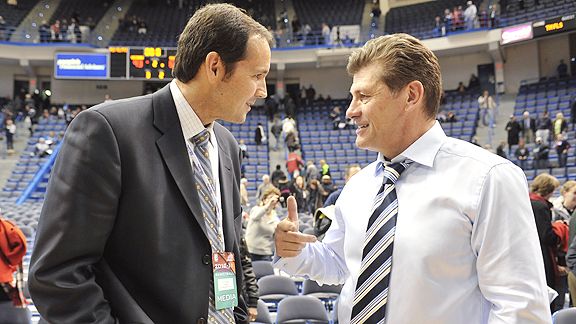 AP Photo/Jessica HillGreg Wooden, grandson of late UCLA men's basketball coach John Wooden, talks with Connecticut coach Geno Auriemma after UConn's 93-62 win Tuesday night in Hartford, Conn.
HARTFORD, Conn. -- As fans were exiting the XL Center on Tuesday night, University of Connecticut women's basketball coach Geno Auriemma took time to walk over and talk with Greg Wooden, grandson of late UCLA men's basketball coach John Wooden.
"This is a very special day for you," Wooden said to Auriemma, whose team had just won its 89th consecutive game, breaking UCLA's record set in 1971-74.
"I've always been an admirer of your grandfather," Auriemma said, shaking Wooden's hand.
They then drew closer and spoke about a book about John Wooden and the fundamentals of basketball, no matter if it's men or women.
"I've told everyone you coach a lot like he did," Wooden told Auriemma. "You focus on passing and how to play the game the right way. You set up plays and you execute them."
Auriemma beamed a smile and said, "Thanks. I'm so glad you came."
For Greg Wooden, he thought he should be there. The 47-year-old vice president of the Adopt-a-Highway program in California has no ill will toward UConn breaking his grandfather's record, so he left Newport Beach, Calif., and flew across country for his first women's basketball game -- ever.
"My grandfather would have been absolutely thrilled to see them break the record," Wooden said. "He liked the women's game. UConn has quite a few stars that could've scored a lot more points on other teams but were willing to sacrifice for the best of the team."
John Wooden died June 4 at the age of 99 and, in his later years, had grown more interested in the women's game.
"He thought the best basketball was played at the collegiate level -- and it wasn't by the men," Wooden said. "He didn't care for the slam dunks and the showmanship. I know my grandfather would have loved to have been here to see this."