Welcome to your Pregame Flyover of the Panthers-Steelers game Thursday night in Pittsburgh, a contest that might attract the biggest diehards in the NFL. Not among Steelers fans, of course, who as usual will be attending in droves. But among Panthers fans, whose 2-12 team is limping toward the end of the season and whose interest in attending this game should be nonexistent. What's the over-under on the number of Carolina jerseys we'll see in the stands? Two? That sounds about right. Hopefully that duo will be shot with tranquilizer darts and tagged for future study, because any Panthers fans attending this game deserve closer examination.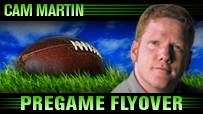 Carolina has an advantage. Steelers coach Mike Tomlin said his team is definitely at a disadvantage to Carolina in one regard: The Panthers are younger on average than Pittsburgh, and that will allow them to recover more quickly between last Sunday and this Thursday night game. No word on how long it took for Tomlin and his staff to find something nice to say about the Panthers, but that's good hustle, especially during a short week.
Hand those Panthers fans some Terrible Towels. With two games left to play, Carolina has the inside track on the No. 1 pick and all they have to do is lose out to Pittsburgh and Atlanta to secure the top spot in the 2011 draft. If you're a Carolina fan, how can you not be actively rooting against your team at this point? Even if you're happy with Jimmy Clausen as the long-term solution at quarterback (read: you're delusional), the No. 1 pick is valuable and can be traded to address some of the team's other glaring needs -- like a new head coach, wide receivers and old-school Panthers cheerleaders.
Clausen can't win. The Notre Dame graduate, whose 59.1 passer rating ranks last in the NFL, finds himself in an odd position at this point in the season. If he plays well in the last two games (odds: long), he might lift Carolina out of the No. 1 draft slot, thereby incurring the wrath of fans. If he continues to play poorly (odds: short), he's keeping the team in position to draft his replacement. He can't win for losing. He can, however, double his touchdown total on the year by throwing two scores against the Steelers.
Carolina longs for its NFC West days. The Panthers' two wins this season are over the Cardinals and 49ers. In fact, they're .500 against the NFC West this season -- the same mark as the first-place Rams.
Punxsutawney Polamalu. Over the last two seasons, the Steelers are 14-4 when Troy Polamalu plays, but 5-7 when he doesn't. They're 0-1 when they're stupid enough to call a draw play to Mewelde Moore in their end zone.