Let's just hope Bieber Fever isn't too hot to melt the ice.
Collectors ripping into packs of recently released 2010-11 Donruss Hockey cards from Panini America will find four Fans of the Game cards featuring celebrities and their allegiance to an NHL team.
Among them is 16-year-old Canadian pop star Justin Bieber.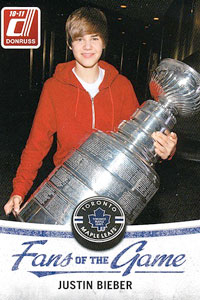 Panini America Justin Bieber and hockey -- two of Canada's greatest achievements.
Panini, which also has a trading card set dedicated solely to Bieber, got the singer to sign a limited number of cards for the Donruss set. The first copy of the card to sell on eBay recently went for $299.95. Two additional copies were on the auction site with $350 price tags as of Sunday evening.
"Luckily for us, Bieber is a huge Wayne Gretzky fan, which made him a natural fit in Fans of the Game," said Tracy Hackler, Panini America's hobby marketing manager.
According to his card, Bieber is a Toronto Maple Leafs fan, ironic since Gretzky never played for that team and the Leafs haven't hoisted the Cup during Bieber's lifetime. The Maple Leafs' last championship was in 1967.
Also appearing in the set is Pamela Anderson, who made quite an impression with collectors when she appeared in the 2010 Donruss Elite Extra Edition baseball card set in her Pepperdine jersey. Those autographed cards fetched more than $300 when they first arrived.
Anderson's hockey card links her to the Vancouver Canucks, and the autographed version of that card (more plentiful than the baseball card) has fetched as much as $165.
Rounding out the Fans of the Game set are "Slap Shot" actor Michael Ontkean, a Canucks fan, and former "Dancing With the Stars" contestant, singer Willa Ford, who is married to former Dallas Stars center Mike Modano. While Modano appears with Ford on her card wearing a Stars jersey, her allegiance has changed along with his uniform colors. She's now a Detroit Red Wings fan.