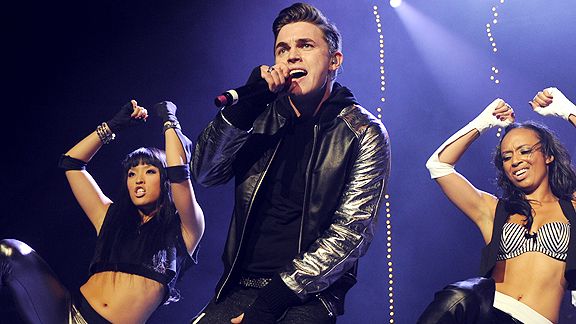 Tim Mosenfelder/Getty ImagesJesse McCartney says he always hopes his tour schedule falls outside of NFL season.
Two years ago, Jesse McCartney's song "Leavin'" (produced by Tricky and The Dream) was the most-played Top 40 single of 2008. Two weeks ago, MTV put McCartney's single "Shake" on its list of the top 25 songs of 2010 -- and the guy hadn't even put out an album in two years. His anticipated record "Have It All" (Amazon), on which the catchy single appears, is scheduled to be released early in 2011.
Earlier this month while on tour, he fielded a phone call from The Life. This is what the 23-year-old had to say about a Giants-Jets Super Bowl, his NASCAR national anthem faux pas and Rihanna.
The Life: In 2008, your song "Leavin'" put the G5 in everybody's lexicon. Now, Far East Movement has everybody feeling like a G6. What gives? Do you feel one-upped?
McCartney: > I'll tell you this, it's a great song, I love it, but I'm glad you asked because I'm gonna say something that might surprise some people -- there's no such thing as a G6. Google it. There's a G550, but there's no G6. But it doesn't matter; it's still a great song. [Editor's note: The G650 is scheduled to enter service in 2012.]
The Life: Set the record straight on one more thing. Your manager tells us that you are a Giants and Jets fan. I know you're from New York, but c'mon, it's got to be one or the other.
McCartney: No, no. He gave you some ill-information. [Laughs] I'm a Giants fan through and through. I am crazy about Eli Manning. I'm all about the Giants. What I said was that I'd love to see a Giants-Jets Super Bowl. That would make my life. I was talking to my dad about it; he said that if he could see that in his lifetime, he'd never need another football game. That would be a dream come true. So I'm always rooting for that dream to become a reality. I'm hoping I can take my dad to the perfect Super Bowl in Dallas this year.