Gene Chizik has come a long way. His career path took the old-fashioned route, starting as a graduate assistant at Clemson, with stops at Middle Tennessee, Stephen F. Austin and Central Florida before hitting the top-tier jobs.
He's a hard-nosed defensive coach who has blended his knowledge gleaned from years of working for others while also venturing out for advice.
"That's where I've learned to put together what I believe in, and I believe very strongly in things, and I'm very unbending in things," Chizik said during a visit to ESPN on Wednesday.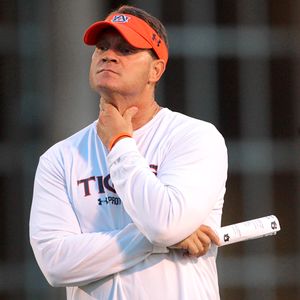 AP Photo/Dave MartinCould this be Gene Chizik giving"The Look?"
When he was defensive coordinator during Texas' run to the national title, his players spoke of the stoic Chizik not saying much, but just giving them "The Look." Even though he runs his own program, he says he hasn't changed much.
"I remember them talking to me about 'The Look' but that certainly doesn't mean that I'm not vocal," Chizik said. "But sometimes they can get 'The Look.' They know. They know what 'The Look' means."
But their old-school coach has loosened up a bit, even if he's a little reluctant.
"I know i have to go with the flow of the times a little bit. But in terms of philosophy and what I want to get accomplished, the recipe stays the same for me," Chizik said.
Still, it's not surprising that the one issue that the players have most pushed him and that he's been most uncomfortable to change has been with music.
"We've got a really close-knit family on our football team. When our seniors and players come to me and want to play music in practice, or when they're in pregame stretch, it's not ideally what I would've considered 8 or 10 years ago," Chizik said.
But the traditionalist in him can still only go so far out on the ledge.
"There's been some stuff that's really bad. And there's been some stuff that's really good. But what we do to make sure that there's no miscommunication anywhere -- it's all instrumental, so we don't have any words. We're good with that," Chizik said, smiling. "That way they get their cake, and I get to make sure and ensure that it's definitely G-rated."
Does that include the new songs inspired by Auburn's championship appearance, such as a variation on Wiz Khalifa's "Black and Yellow," known in Auburn as "Orange Navy"? Or even songs by Travis Williams, a former Auburn player and now graduate assistant coach for Chizik, such as "Amazing Champion"?
"Yeah, we're on it," Chizik said. "We're on it."