The only thing more infectious than the hook to Cee Lo Green's smash-hit single "[Expletive] You" is the Atlanta native's soulful laugh.
Seemingly everything Cee Lo says is punctuated by a reverberating chuckle that can make even the most depressed break out in an uncontrollable giggle. It's an audible manifestation of Cee Lo's character, the conscious recognition that, despite the overwhelming fame, it's all in good fun.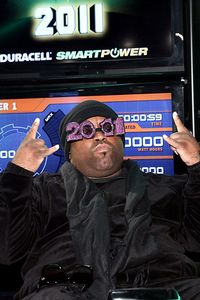 Stuart RamsonCee Lo has been so busy that he hasn't had much time to focus on sports.
And what's not to love about life these days? Green is enjoying a sweeping wave of success, highlighted by five Grammy nominations for his catchy, curse-riddled single and the accompanying album, "The Lady Killer."
He's even using his status to join forces with some unlikely sources; Thursday, he took to the bike, pedaling the final leg at the Duracell Smart Power Lab in New York to capture energy to power the 2011 numerals on New Year's Eve. Consider it the final addition of a little "man power."
Though Cee Lo hasn't had much time to watch his favorite sports teams, the childhood memories still flood in when discussing the achievements of the Hawks, owners of the Eastern Conference's fifth-best record, and Falcons, who can wrap up home-field advantage with a win on Sunday.
"We were kids when Dominique Wilkins was doing his thing, so everything that was going on around then was magical," Cee Lo said. "They were bigger than life. I'm not an avid sports fan, but back then as a child, those personalities jumped out of the TV, so you couldn't miss them even if you didn't want to pay attention."
So how does the sports fanaticism in Atlanta compare to, say, the hordes of Cee Lo's followers hoping to see that glistening smile or catch a song from the music industry's latest sensation?
"I think the sports fans are a lot more intense than my fans," he said. "Music has a calming quality; it doesn't have to take on that competitive spirit. We all have it in us in some form or fashion, and sports takes on that competitive quality."
But Cee Lo must have a few rabid fans following him in tour, right?
"I've got a few restraining orders on a couple lovely young ladies," he joked.