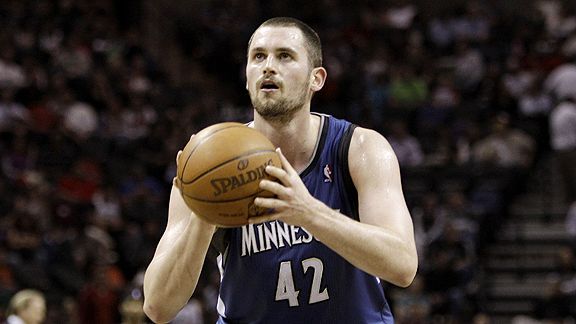 AP Photo/Eric GayMinnesota's Kevin Love makes Page 2's All-Airport Team.
Don't worry. You won't have to wait in line or deal with any creepy scanning machines. In fact, you do the scanning here as we present Page 2's All-Airport Team. Safe travels.
Reggie Bush: The infamous Heisman winner and Saints star running back shares his last name with one of the most famous families in the U.S. Houston's Intercontinental Airport is named for George H.W. Bush, the 41st president. And it's not the only Bush field in history -- the Augusta (Ga.) Regional Airport was also Bush Field until 2000.
Roy Hartsfield: The first manager of the Toronto Blue Jays was an Atlanta guy but missed out on air travel -- and therefore a landing at Atlanta's Hartsfield-Jackson Airport -- in his playing days. He was a Boston Brave for that team's final three years of existence, 1951-53, but he didn't accompany the franchise when it moved west to Milwaukee. That migration happened to be the one that standardized air travel in Major League Baseball. The airport is named for former Atlanta mayors William B. Hartsfield and Maynard Jackson.
Kevin Love: The Minnesota Timberwolves forward might get a chance to the airport that shares his name -- Dallas' Love Field. Love Field is the secondary airport in Dallas since Dallas-Fort Worth International opened in 1974. Kevin Love is second to none in Minnesota -- he was a first-round draft pick by Memphis, traded to the Timberwolves on draft night in 2008, and has been a key contributor ever since.
Arnold Palmer: When you've traveled the world as an ambassador for your sport, as Arnie has, the least they can do for you is name your hometown airport after you. And so Westmoreland County Airport in Latrobe, Pa., became Arnold Palmer Regional Airport in 1999.
Ron Reagan: In the fall of 1988, the more celebrated Ronald Reagan was preparing to step aside after two terms as president. Meanwhile, a defensive back of the same name was stepping into his own gig about 10 miles away. Term limits (NCAA rules in this case) ended the other Reagan's career in 1992, but after a redshirt season that first fall, he started four years as a defensive back for the Maryland Terrapins. Along the way, he and his teammates presumably used the airport in Washington that was renamed for the president in 1998.