Last week, I dipped into all the ways teams, athletes and leagues began to leverage social media for revenue in 2010.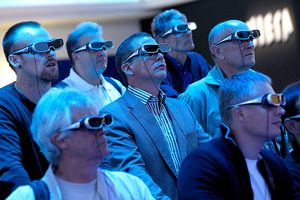 Sean Gallup/Getty ImagesIf 3D television spreads to more households, sports teams must improve the value of seeing games in person.
A lot of the strategies are still largely untapped by the majority of sports entities, and it's why 2011 might be shaping up as a year many take stronger, more serious steps to monetize their brands via social media.
With that in mind, and a peek at a few other facets, here's a look at what might be in store for sports and social media in the new year:
Enhancing the in-stadium experience
In 2010, teams and leagues dipped their toes into the geolocation pool. The Nets experimented with a ticket promotion via Gowalla; the NHL offered exclusive content and deals via Foursquare; the NBA and MLB allowed for check-ins via their mobile applications.
But 2011 could bring a larger geolocation focus for teams and leagues.