OK, now that this year's Baseball Hall of Fame class has been selected, it's time to debate the real question: Which cap should the new inductees be shown wearing on their plaques?
It's a trickier question than usual, because this year's inductees both played for a large number of teams. Let's take a look:
Inductee No. 1: Roberto Alomar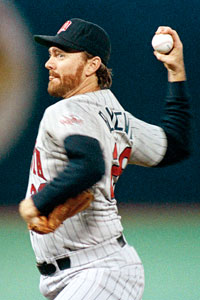 AP Photo/Rusty KennedyBert Blyleven, shown in 1987: Will the beard/hat combo tip the scales to this Twins look?
Played for: Padres, Blue Jays, Orioles, Indians, Mets, White Sox, Diamondbacks
Factors to consider: Never played more than five years with any team, so it's hard to tie him to one franchise. Arguably had his best seasons in Baltimore (1996) and Cleveland (1999, 2001), but he also had a very good run in Toronto, where he won two World Series rings.
Bottom line: Most fans probably think of Alomar as a Blue Jay. The two championships he won with them will likely lead the Hall to put him in a Jays cap.
Inductee No. 2: Bert Blyleven
Played for: Twins (two different stints), Rangers, Pirates, Indians, Angels
Factors to consider: Spent about half of his 22-year career with Minnesota, so the Twins cap is a fairly easy call here. But which Twins cap should it be -- the "TC" cap from early in his career or the "M" cap from his second go-round in Minnesota?
Bottom line: As New York Times writer Tyler Kepner has argued, this might be a case of a facial hair tiebreaker, because most of us now think of Blyleven with his trademark beard, which he hadn't yet grown during his first stint with the Twins. So even though the "TC" cap is the more attractive option, the beard tips the scales toward the "M" cap.
What do you think? Has the whole Hall of Fame cap thing gotten out of hand? Should players just be shown without a cap, or without a cap logo? Leave a comment to let us know what you think.