If the just-completed NFL regular season truly marks the end for Minnesota Vikings quarterback Brett Favre -- never say never, of course -- then it seems appropriate to ask the same question that both accompanies and validates any happening of major social significance.
Namely, what about the kids?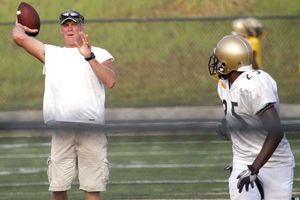 AP Photo/Rogelio V. SolisBrett Favre, having fun out there with Oak Grove High School players in August in Hattiesburg, Miss.
Fact: Favre has spent his last few summers working out with players from Oak Grove High School in Hattiesburg, Miss. Also fact: Those players soon may need a new guest quarterback.
To get the lowdown, Page 2 spoke with Oak Grove football coach Nevil Barr:
What does Brett Favre retiring mean for your team's summer workouts?
I don't know. I'm sure he'll be around, come out here and throw a little bit with them. I think he enjoys doing that. The kids enjoy it, too.
Did Favre coming out to throw during the summer make a difference in the skill level and performance of your receivers?
Definitely. Every now and then he would show the receivers or quarterback something that would make them better. Little tips. It didn't matter if they were first-teamers or third-teamers. The players were enthusiastic about having him out there. It makes summer workouts a little more fun, for sure. He's got a lot of enthusiasm. Loves the game. That rubs off on the people around him.
Was Favre throwing full speed? If so, what was that like for your players?
He threw at different speeds to different skill levels. We've had some guys who were Division I receivers. He'd throw hard to them. Other guys, he would take something off it. He was good at judging that. Once in a while, someone would want him to throw as hard as he could. He's put some pepper on it.
Did anyone hurt their hands?
They could be red at times, that's for sure.
What was the extra media attention that comes along with Favre like for you and your team?
I think for the kids, at first, it was kind of different. But it never was a distraction. Summer workouts, you're running, lifting, throwing. Not much to lose focus about.
So you're positive Favre will return to work out with your team?
I really expect he'll be out there some. It's fun. But I'm not 100 percent sure.
Sounds familiar!