If it seems like a lifetime since Oregon and Auburn last played, you'd be right ... if you were a bee.
The two undefeated teams -- who play Monday night in the BCS Championship Game -- last played on the same day, Dec. 4, which means the Ducks and Tigers will have had 36 days off between games.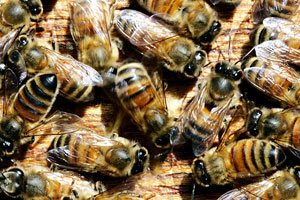 AP Photo/Mel EvansPoor honeybees might never see Oregon or Auburn play in their lifetime.
That's enough time for:
• The average worker honeybee to live its entire life of 28-35 days.
• The pomp and pageantry of 34 other college football bowl games.
• One university -- Pitt -- to hire AND fire the same football coach, Mike Haywood, over a 16-day span, with time left over for speculation about a new candidate.
• The Miami Heat to completely turn around their season. Since beating Atlanta Dec. 4 to improve to 13-8, Miami has gone 15-1 while Oregon and Auburn have gone 0-0.
• A college football fan to walk from Vancouver, B.C., to Glendale, Ariz., the site of Monday night's matchup -- a distance of 1,220 miles (at an average speed of 3 mph for 12 hours a day).
• The L.A. Angels to whiff on just about every big-name free agent that was rumored to be Anaheim-bound, including Carl Crawford, Jayson Werth, Adrian Beltre and Cliff Lee.
And, with five days left before kickoff, there's still time for about 23 college football coaching changes.