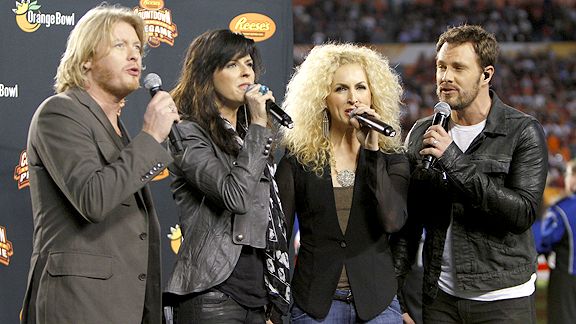 AP Photo/J Pat Carter
Little Big Town performed before the Orange Bowl Monday and will perform at the Cotton Bowl Friday.
Country band Little Big Town has had a busy week.
On Monday, the foursome sang the National Anthem at the Orange Bowl.
And Friday, they will sing the National Anthem at the Cotton Bowl.
"Hey, give us tickets and we'll be there to sing!" said singer Jimi Westbrook. "We're just huge sports fans that we love doing this. And we get to check out the game!"
He ain't lying. The platinum-selling Alabama band, who have been around for about 12 years, has sang the National Anthem at several NASCAR races, college football games and even a college basketball game. The harmonic group consists of Westbrook along with his wife, Karen Fairchild, Kimberly Schlapman and Phillip Sweet.
"In our career, we have sung to four people in a room all the way to a sold-out arena," Westbrook said. "But singing in front of nearly 70,000 football fans is a special feeling. When we get to the last part of the song, the crowd starts to erupt. It's just amazing."
The band released its fourth album, "The Reason Why", in the fall and continue to tour. Westbrook said sports, especially ESPN, is always on their tour bus.
So playing all these sporting events and watching ESPN all day, what does your wife think?
"You haven't seen her throw a football, have you?" he said. "She has a rocket for an arm."