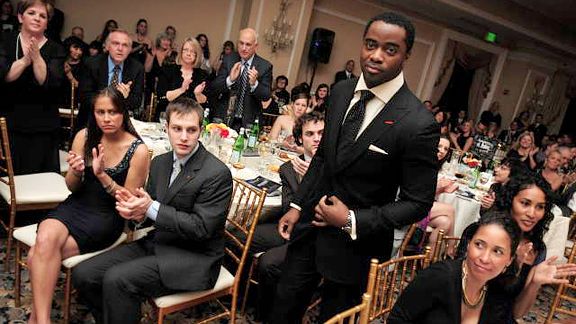 Courtesy of Sam Levitan Curtis Martin was honored as a "Hero of Hope" at an ALS event.
Former New York Jets running back Curtis Martin and New York Yankees Curtis Granderson were honored as "Heroes of Hope" at the recent "Midwinter's Night Dream", an annual charity fundraiser held by Northport (N.Y.) High School students that supports Amyotrophic Lateral Sclerosis (ALS or Lou Gehrig's Disease) research.
The event was unique in that it was run entirely by 43 high school students, ranging in age from 15 to 17 years old. Each year they honor several Heroes for Hope that give support and inspiration to the students and the charity. Past honorees include Nick Swisher, Billy Baldwin, Curt Schilling and Edie Falco.