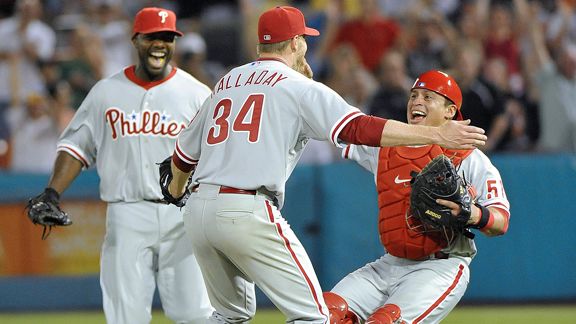 Steve Mitchell/US PresswireThrowing a perfect game in "MLB 2K11" will earn one lucky gamer a million bucks.
Last year, a 23-year-old gamer from Alabama named Wade McGilberry won $1 million playing "MLB 2K10." That's right, a cool mil playing a video game.
McGilberry added all those zeros to his bank account by being the first person to throw a perfect game in "2K10," and he did it by pitching with, of all people, Kenshin Kawakami. (2K should have doubled the prize for that.)
Today, 2K Sports announced that the million-dollar perfect-game promotion is back on for "Major League Baseball 2K11," but this time there are some changes to the rules.
First off, the competition's start date has been pushed back. Last year, McGilberry won on the first day the game was released (and almost a month before baseball season started) using spring training rosters and pitching inside a spring training stadium. This year, gamers will have more of a chance to practice, as "MLB 2K11" ships March 8, but the first day of the million-dollar challenge isn't until April 1. That way, gamers will be playing with the Opening Day starting lineups inside virtual Major League ballparks as they try to be the first person to throw a verified perfect game. (You'll need to record yourself playing and send it to 2K.)
"We wanted to give the competition a more true-to-life experience," says Chris Snyder, 2K Sports' director of marketing. "This year, we wanted the competition to coincide more with Opening Day, so now fans who buy the game on launch day will have almost a full month to practice before they go for the million dollars.
"You won't be winning in a spring training stadium this year."