"Mike and Mike in the Morning" co-host Mike Greenberg has been named one of the 10 finalists for the "Live! With Regis and Kelly" show's Men of Radio Co-host for a Day Search.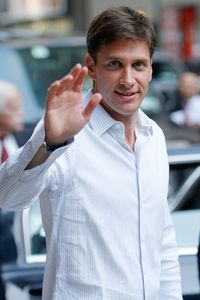 Soul Brother/FilmMagic/Getty ImagesESPN radio host Mike Greenberg is one of 10 finalists to sub for a day for Regis Philbin on the "Regis and Kelly" show.
Greenberg, who has hosted the morning ESPN radio show for the past 10 years with Mike Golic, was shocked and surprised.
"In one way, Mike and I are the Regis and Kelly of sports radio," Greenberg said. "But in this case, if I get the opportunity to trade up to Kelly, why not?"
Viewers of the "Regis and Kelly" show will decide which five broadcasters will join Ripa as guest co-hosts Jan. 24-28. That's because Philbin is on vacation that week. Among the other finalists, out of thousands of entries, include Chicago's Eric Ferguson (101.9 FM), Orlando's Johnny Magic (XL 106.7) and Kidd Kraddick (nationally syndicated).
Greenberg expects Golic to chide him each day about this.
"He would make fun of me even if I were hosting the 'World's Strongest Man' competition," Greenberg said. "It doesn't matter how much testosterone we're talking about. He'll find a way to make fun of me."
Now it's up to the viewers, this time to vote on the five broadcasters who will fly to New York to act as guest co-host. Voting began Monday at LiveRegisandKelly.com and will remain open until 6 p.m. Sunday, with the final lineup of guest co-hosts to be announced on Jan. 17. Viewers can vote as often as they'd like.
Golic said he wants this pairing to happen and will shamelessly mention it often on his show.
"I think this would be one of the great pairings of all times," he said. "Where else can you get a couple of ladies to swap stories?"