When Peyton Hillis talks about his home, he's really referring to two very distinct locations. In the literal sense, there's Arkansas, where Hillis returns in the offseason to hunt and hang out with his 20-plus family members.
And then there's Cleveland, longing for a star. It's the city where Hillis has emerged as one of the NFL's elite running backs, and it's the city in which he finally feels welcome.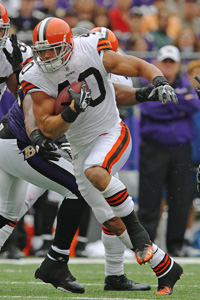 Mitch Stringer/US PresswirePeyton Hillis' big season endeared him to Cleveland fans.
"When you walk around Cleveland, the fans are starving for a winner and a successful team, and you saw how upset they were when LeBron left," Hillis said. "You just want to win it for them. ... The fans support you, and even in my home state I don't get as much recognition as I do in Cleveland."
This offseason, he's even invited a few teammates to Arkansas to hunt, a merging of his two worlds. "I finally feel like I have a family as far as football goes," said Hillis, who backed up two future first-round draft picks (Darren McFadden and Felix Jones) at Arkansas and had only 81 carries in two years with the Broncos. "Everywhere else I went I felt like I wasn't really accepted or wanted."
After getting traded to the Browns, Hillis exploded onto the scene to the tune of 1,177 rushing yards and 11 touchdowns, and was nominated for the VIZIO Top Value Performer award. Fans can vote for the winner whose on-field performance most exceeded the value of his contract. Hillis earned just $470,000 in 2010, making him the lowest-paid of the five nominees.
This season, Hillis began talking daily to Cleveland native Ryan Trewin, a 9-year-old cancer patient and die-hard Browns fan. Trewin attended a Nov. 28 game against the Panthers and his family gave Hillis a hunting jacket for Christmas. Hillis still keeps in contact with Trewin. "It shows how much influence we can hold," Hillis said. "I feel blessed to help people out in that way."
Cleveland, in turn, has accepted Hillis, and fans have offered nicknames like "The Juggernaut" and "Chuck Norris." So what's his favorite?
"I like the Albino Rhino. That was kind of cool. Of all the other nicknames people give out, I thought it was really unique."