To some college football fans, Michigan's decision to hire Brady Hoke seems like a major stretch.
After all, Hoke has a career record of 47-50 in eight seasons as a collegiate coach. Further, many pundits expected the Wolverines to insist on hiring a big name, such as Jim Harbaugh or Les Miles, to direct the winningest football program in history. Instead, Hoke is the choice, which leaves some fans scratching their heads.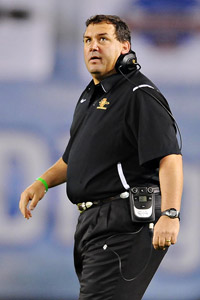 Chris Hanewinckel/US PresswireExpect success from Brady Hoke at Michigan. He's an SDSU man!
Scratch no more.
It's being overlooked that Hoke is arriving from San Diego State, which is -- with apologies to Miami University -- a cradle of coaches:
Consider that each of the following coaches once had an office on Montezuma Mesa:
• Don Coryell: Went 104-19 as SDSU coach from 1961-72; later successfully coached Chargers and Cardinals and was instrumental in evolution of NFL passing game; only coach to win 100 games in both college and the NFL.
• John Madden: Served as assistant under Coryell; went on to win Super Bowl XI title and compile 103-32-7 record as coach of Raiders; namesake for reasonably successful video game franchise.
• Joe Gibbs: Played and coached under Coryell and ultimately became the only NFL coach to win three Super Bowls with three different quarterbacks.
• Al Luginbill: Coached Aztecs during heyday of Marshall Faulk and Dan McGwire; later coached Amsterdam Admirals to World Bowl appearance and Los Angeles Xtreme to XFL championship.
• Ted Tollner: Coached Aztecs to Las Vegas Bowl berth in 1998 and later was instrumental in guiding legendary, high-flying NFL offenses (Detroit Lions, 2005; San Francisco 49ers, 2007-08; Oakland Raiders, 2009-present).
• Tom Craft: Former Aztecs quarterback coached SDSU from 2002-05 and used the position as a springboard to the prestigious head coaching gig at Riverside Community College.
Clearly, Hoke has the pedigree. So when he hoists that championship trophy at Michigan -- or in the UFL, at least -- don't forget Page 2 saw it coming.