Racing legend Mario Andretti joins drivers Sarah Fisher, Al Unser Jr., Larry Foyt and Martin Plowman, among others, this week on a 10-day goodwill tour of U.S. military bases in Europe and the Middle East.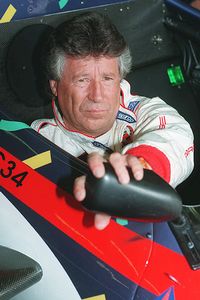 AP Photo/ Laurent ReboursMario Andretti is heading to the Middle East to show support for the troops.
"I want to show my appreciation for their service," said Andretti, who is the only driver to win the Daytona 500, Indianapolis 500 and Formula One World Driving Championship. "I want to personally thank them for all the things they do. That's the message were trying to bring them."
Departing from New York Thursday, the Indy 500 Centennial Tour aims to increase troop morale directly to more than 10,000 service men and women at military bases and on an aircraft carrier at sea. The team will give motivational talks and participate in autograph and Q & A sessions, meet and greets, and photo opportunities.
In addition to receiving thousands of gifts, several lucky troops will experience the thrill of being an IndyCar passenger in the specially modified Dallara racecar built-for-two that is accompanying the tour. The troops will get the rare opportunity to face the g-forces and encounter the speeds involved in IndyCar racing as they are driven by Andretti, Unser and Johnnie Rutherford.
"It's going to be a great adventure for us," Andretti said. "We want these service people to understand that they aren't forgotten. We just want to bring them some thoughts of home. We're honored to be doing this."