Welcome back to another edition of Page 2 Jeopardy!, the quiz that tests your knowledge of sports, pop culture and assorted trivia. Please remember to phrase your responses in the form of a question.
(Correct questions at the end of the quiz.)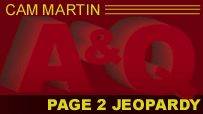 1. Answer: In an instance of honest humility, this All-Star outfielder admitted he's not worth his seven-year, $126 million contract.
2. Answer: During a radio interview Thursday, this Pro Bowl linebacker said of Tom Brady, "Like, dang, this guy's got the world, he's winning Super Bowls and dating supermodels. It don't get much better than that. And he gets, you know, rules made for him. He gets to tell the referee when to throw the flag. That's a hen in a handbasket [sic] right there."
3. Answer: In Spinner's list of the top 50 greatest guitar riffs of all time, this Rolling Stones song finished No. 1 ahead of "Voodoo Child (Slight Return)" by the Jimi Hendrix Experience.
4. Answer: Showtime is reportedly in talks to do a "Hard Knocks"-type documentary series about this MLB team.
5. Answer: These are the only two teams remaining in the playoffs that have never won a Super Bowl.
Question 1: Who is Vernon Wells?
Question 2: Who is Terrell Suggs?
Question 3: What is "Satisfaction"?
Question 4: Who are the San Francisco Giants?
Question 5: Who are the Seahawks and Falcons?