It's not easy to define Johnny Weir.
And that's the way the 26-year-old of Coatesville, Pa., likes it.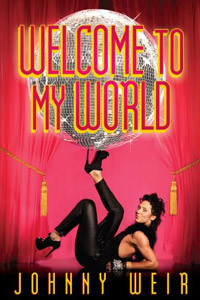 Courtesy of Simon and SchusterJohnny Weir is on a book tour throughout New England promoting "Welcome to My World."
A three-time U.S. National Figure Skating Champion. Having a No. 1 song -- "Dirty Love" -- in Japan. Filming a reality show "Be Good Johnny Weir" for Logo network.
And just releasing his autobiography "Welcome to My World" in which he finally announces that he's gay.
"Life has been a very liberating time for me recently," said Weir, who is appearing Saturday at Barnes & Noble in West Hartford, Conn., for a book signing. "The book really allows people to see what makes me tick and what makes me me."
Weir has been a lightning rod since coming on the skating scene seven years ago. He was winning titles but was receiving flak from the skating community for being overly flamboyant. And he was receiving flak from the gay community for not professing his sexuality until he wrote the book.
"I've never lied to my fans. I put everything out there. But I know that nobody is beloved by everybody. Who are these people to make judgments about me?" he said. "At the end of the day, I'm an entertainer and an athlete. And I'm a gay, white male. And that's it."
And now Weir will ride a bus up the East Coast for a book tour for a few weeks and then head to London for a skating exhibition.
"My fans respect me and my art. I love doing this tour and meeting the people who have supported me for years," said Weir, who just returned from performing in Russia. "It's been incredible. I'm just so honored that people respect me enough to come see me."