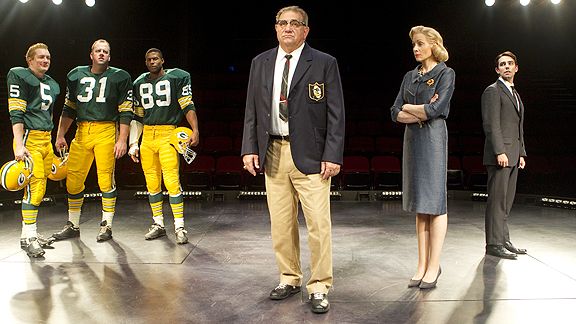 Lombardi on Broadway Judith Light and Dan Lauria star in "Lombardi" on Broadway.
Last Saturday night, while the Jets were engaged in a wild-card battle with Peyton Manning and the Colts, Tom Brady and wife, Gisele Bundchen, were catching the Broadway hit "Lombardi." Rex Ryan, ever the rabble rouser, suggested Brady should have spent been watching the Jets/Colts game instead, as if it were a missed scouting opportunity. "Peyton Manning would have been watching our game," proclaimed Ryan.
Call me irresponsible too, Rex, because on Tuesday night I blew off my Pilates class and followed in the footsteps of Tom and Gisele as I walked down the Circle in the Square Theatre's runway (albeit it with fewer paparazzi) to check out the show that has the NFL world all abuzz.
"Lombardi," based on David Maraniss' book, "When Pride Still Mattered," stars Dan Lauria and Judith Light as Vince and Marie Lombardi. While the play shines a vivid light on the interwoven complexities of Vince Lombardi the man and Vince Lombardi the coach, the real surprise of "Lombardi" is the prominent role of his wife. As producer Fran Kirmser explains, "It's just as much her story as it his story. And it's very much a play for women. It's about this relationship and marriage."
After the show I had the opportunity to sit down with Judith Light, who plays Marie to perfection, to delve into the previously untold story of the famed coach's wife and how playing tackling this role has transformed Light into an NFL fan.
Melissa Jacobs: From all accounts you nailed Marie Lombardi. What additional research did you do beyond reading the book?
Judith Light: The book. It was the book.
MJ: Really, that was it?
JL: Yeah, and the producers gave me some material to look at and listen to. And in particular our dialect coach Steven Gabis said "Here is something of Marie," meaning a tape of her. I started listening to her on the tape and said, "Uh-oh, I'm going to be in trouble if I keep listening to this." So I went to our director and said, "Do you mind if I don't listen to this because I'm afraid I'm going to try and impersonate her or I'm going to make her a caricature in some way?" I would have rather had nothing in my head about her. And I wanted to do that specifically because I'm the type of person that if I get something in my head like that it stays there and then I'd be constantly comparing myself to whether I sounded enough like her. But I've been really pleased that people have come, people in her family including Susan Lombardi (Vince and Marie's daughter) and they said, "You've got her down." Susan was actually crying on opening day and she said, "You're my mother." So it's been very heartwarming for me to have that type of experience.