When you think of Chicago Bears greats, names like Butkus, Dent and Singletary stand out. But none of these legendary, hard-consonant names is the answer to this trivia question: "Which player has logged the most games in a Bears uniform?"
To find the answer, look at the current roster. There, you'll find someone who has logged 205 regular-season games as a Bear and yet can still window shop on Michigan Avenue without being hounded for an autograph.
"If I do get recognized, it's by a ginormous Bears fan," said Patrick Mannelly.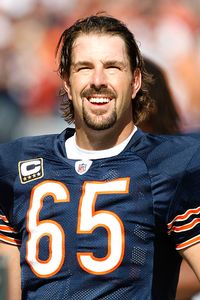 Scott Boehm/Getty ImagesDespite playing 200-plus games as a Bear, Patrick Mannelly can walk relatively unnoticed in Chicago.
Mannelly has been the Bears long-snapper since 1998. This year, he eclipsed Steve McMichael's previous record of 191 games as a Bear. And while Mannelly spends more time pacing the sidelines than engaged in trenches, he's not wasting time waving at cameras. Expertise is born of repetition.
"During first and second downs, I'll snap the ball to [punter] Brad Maynard," said Mannelly. "On third down, we'll see if we make the first down. If you do, you go back and do it again. That process, the whole game."
He is the sports equivalent of the cymbalist who waits patiently for the rest of the orchestra to peak before unleashing his crash.
"I got recognized by scouts [my junior year at Duke] that said I had the skills to make it to the NFL," said Mannelly. "And then I realized there's guys that do this and get paid decent money."
Indeed. In December, Mannelly signed a two-year contract extension through 2013. By the end of that contract, he'll have earned more than $10 million, simply for "seven to 12 plays a game." Which isn't to say his job always goes smoothly.
"I had one against the 49ers in 2002. It was a game where there were 40-mph winds," said Mannelly. "I threw a little bit of a wobbler back there, the wind caught it and sailed it off."
It's true. There's no chance for glory as a long-snapper, only infamy. If a long-snapper does his job perfectly, the kicker gets the glory. But Mannelly wouldn't have it any other way.
"As soon as you see the ball go through the uprights and the game is over, that's the best feeling as a long snapper," said Mannelly. "Knowing that you did your job so he could do his job."