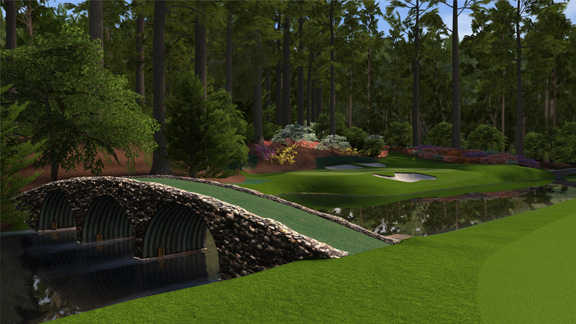 EA SportsEA Sports promises that Augusta will be the most stunning course ever designed in a video game.
For the first time ever, golf gamers will be able to play a virtual round at Augusta National thanks to the upcoming title "Tiger Woods PGA Tour 12: The Masters."
And according to EA Sports president Peter Moore, the "Tiger 12" team received unprecedented access to Augusta in order to build out the most realistic-looking course ever seen in a video game. "Authenticity was paramount," explained Moore. "We want to bring the most genuine and true-to-life digital representation of the Masters Tournament and Augusta National Golf Club into this year's game."
To accomplish this, EA's development team actually spent over a year laser scanning every hole in order to recreate everything from the azalea shrubs to the iconic trees.
"We can now push the boundaries of realism in order to capture every bump on every fairway," added Moore. "Making sure we preserved what is one of the world's great sports brands and represented it accurately and effectively was very important to Augusta."
So how did the EA Sports design team do? Judge for yourself by clicking the link to the gallery and checking out a few holes at the virtual Augusta.
Can't wait to see all of the created zombies, monsters, and freaks people make in the game winning the green jacket. Should make for some amazing screenshots.