The word "confidence" may very well get bandied around too much when it comes to everyday life. It's not something that I think should be taken lightly if you think about the larger impact of what confidence will help bring you in life. If you take just one guy, things such as playing NFL football, writing songs or creating a relationship with your workmates all stand better when a good dose of confidence is parlayed into something better for all.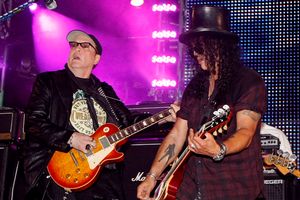 Ethan Miller/Getty ImagesJay Cutler has shown traits of Rick Nielsen, left, and Slash, right, at different times this season.
With any rock band that I have been with, it has been my experience that a good dose of confidence in one guy can and will in fact make the whole group better. If one guy starts to excel on his particular instrument, everyone wins. When Guns N' Roses started, Slash was already a particularly gifted shredder on guitar. Where his gift may have seemingly only benefited him, it actually made Izzy Stradlin and me much more adept at our given crafts. Where Slash's initial confidence in his instrument was great, it parlayed into all of us one day feeling completely in sync and bullet-proof [no pun intended].
At the beginning of this football season, it just didn't appear that Jay Cutler had much of anything going for him. Cutler was a guy who threw more picks than Cheap Trick's Rick Nielsen [that is a dumb rock reference joke]. When your offensive line cannot protect you, all sorts of things can and will go wrong. A quarterback's sense of well-being can get turned upside-down; a team's season can very well follow in quick succession.
But somewhere around Week 8, after having a bye week to dwell on Cutler's four interceptions to Washington Redskins cornerback DeAngelo Hall, the Bears' offensive line started to protect their headstrong and strong-armed quarterback. Cutler was given the chance to perform without as much fear as before. By Week 10, the dude had so much going for him that he was suddenly charging headlong into the opposing team's defense. That is impactful confidence.