"I was kind of surprised at how intelligent she was. You don't know what to expect. Next thing I know I'm spending every day with her. We just hit it off," says Los Angeles Lakers star Lamar Odom of the first time he met his wife, Khloé Kardashian, in Playboy's February interview (on newsstands Friday). "I never in my life thought I would get married. There was a time when I liked being a certain way, being social and having friends in different places, but when I met Khloé, that was the first time I got the urge to be like, I don't even want to do that anymore. That's when I knew I found somebody. I couldn't do what I normally do. She's too strong-willed. She'd leave me."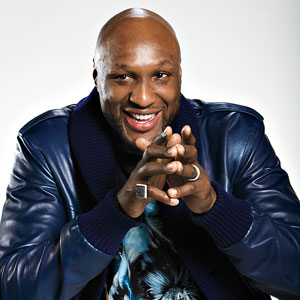 Courtesy of Playboy MagazineLos Angeles Lakers star Lamar Odom said fans in Boston and Utah are the craziest in the NBA.
Despite a tough childhood growing up in Queens, N.Y., and fighting through early scandals in his basketball career, Odom has achieved stardom both on and off the court. After marrying Khloé just one month after meeting her, Odom was thrust onto magazine covers and talk shows typically reserved for basketball's biggest stars. As a further testament to his dual-fame, the couple has started filming their own E! reality-show, "Khloé and Lamar". In the interview, Odom talked about family, Kobe and relationships:
On how marrying Khloé has changed him: "Men, most of the time our goal is to have what we want when it comes to women. … Most men like more than one woman. A lot of them would not want to admit that because that might not be cool, right? Most people don't want to get married. Being married, that's a responsibility. I always used to tell that to women. I don't want a girlfriend because that means I've got a responsibility. I have a responsibility to call you. I have a responsibility not to be with another woman. I have a responsibility to be there on time when you need me. With her I was like, If I do what I normally do, I'm going to lose her. And if I lose her, I think it's going to hurt a lot. Right then and there I knew. We were together every day."
On whether it was true that he withheld sex until they were married: "I tried to. I didn't know why I wanted to wait. We came together and knew what we wanted from each other really early, and everything we did felt good, from a hug to a kiss. Then there was a time when I just tried to be a gentleman about the whole situation. I was accepted by her family. She stayed at my place and vice versa. I thought, We're going to step back for a second. Keep it classy."
On accusations their love is fake, and their marriage is a "PR stunt:" "That's just how gossip works, you know? You can't stop it. Because at the time, with us being so successful -- me in basketball and her show doing so well -- it was too big. It was too huge. It caught people off guard. It looked as though we had too much to gain. That let me know, damn, it's a big deal. Even the wedding was big. The list of her family friends was crazy. Those were her people showing up, showing their love. For some people that was too much to even think about. And it was quick. I guess that just added to the speculation -- 'Why can't they wait?'I didn't want to wait."