PHILADELPHIA -- Before you learn anything about Matt Anderson's hopes, dreams or chances of authoring the comeback of the baseball summer with the 2011 Philadelphia Phillies, it's a good idea to dispense with the octopus story.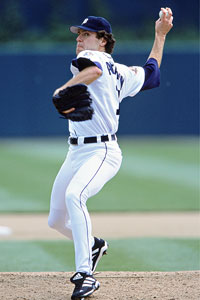 Tom Pigeon/Getty ImagesMatt Anderson regularly hit triple digits on the radar gun. Now he just wants another shot in the big leagues.
In May 2002, when radar guns lit up in his presence and a promising landscape stretched out before him, Anderson took part in a novel pregame promotion in Detroit. The Tigers, putting an interesting slant on a Stanley Cup tradition, held an octopus-throwing contest for fans at Comerica Park, with the winner earning a limo ride to Joe Louis Arena and tickets to a playoff game between the Red Wings and Colorado Avalanche.
Anderson and pitcher Jeff Weaver agreed to take part in the competition and toss boiled octopuses -- or octopi, if you prefer -- underhanded into a bucket from a distance of 20 feet.
"They were tiny little things," Anderson said by phone. "Not like the giant squids you see on the Discovery Channel."
All was well and good until later that night when Anderson tore a muscle in his armpit while warming up in the bullpen. The injury led to a steep decline, and Anderson was out of the major leagues by 2005 and apparently finished with affiliated ball in 2008, when the Chicago White Sox cut him loose.
To this day, Anderson insists that his injury was the result of too many lat pull-downs on the weight machine rather than that goofy Comerica Park promotion. But there's something magical about the combination of Major League Baseball and cephalopod mollusks that makes everyone want to believe the story.