MIAMI SHORES, Fla. -- Call him the Bigger Unit.
At 7-foot-2 and 270 pounds, it's quite likely that Barry University sophomore Frank Szczepanik is the tallest pitcher ever.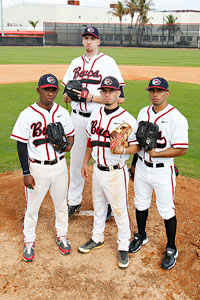 Barry Athletics Frank Szczepanik towers above his Barry teammates -- and the competition.
To put his size in perspective, he is four inches taller than Cy Young winner Randy "Big Unit" Johnson, who is Szczepanik's idol. He also stands three inches above Jon Rauch, the tallest player in major-league history.
At the other end of the spectrum, Szczepanik is more than a foot-and-a-half taller than former American League MVP Dustin Pedroia of the Boston Red Sox.
And when Szczepanik climbs on a mound, the intimidation factor grows because he is, in effect, 8 feet tall.
"I tend to get a lot of first-pitch takes," said Szczepanik, a criminology major who aspires to be an FBI or CIA agent. "They want to see what I've got. I get a lot of guys shaking their heads and saying: 'What the heck is this?'"
While Szczepanik's size is certainly impressive, his talent is still in question. Johnson's fastball once reached 100 miles per hour, but Szczepanik pitches in the mid-80s and will be used out of the bullpen when Barry, which plays in the NCAA's Division II, opens its season Feb. 4 against Georgia Southwestern.
Szczepanik is already playing for his third college team -- with limited success so far. The Newark, N.J., native was an immediate standout at Linden High, striking out 13 batters in his second varsity start.
The next day, however, he had open-heart surgery to repair a genetically damaged aorta. Szczepanik said the surgery was planned. Doctors had monitored him for a year before deciding to operate.