Welcome back to another edition of Page 2 Jeopardy!, the quiz that tests your knowledge of sports, pop culture and assorted trivia. Please remember to phrase your responses in the form of a question.
(Correct questions at the end of the quiz.)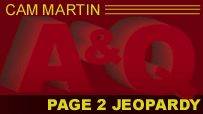 1. Answer: Jim Souhan of the Minnesota Star-Tribune wrote a column that said Packers coach Mike McCarthy was already a better coach than this gentleman whose name is on the trophy awarded to the Super Bowl winner.
2. Answer: Of Joe Namath and Mark Sanchez, the Jets quarterback who has more career playoff victories.
3. Answer: This NBA star will be wearing 3D Nike sneakers during the All-Star Game, shoes that retail for $249.99 and come with their own pair of 3D glasses.
4. Answer: Oprah Winfrey and Piers Morgan have placed a bet on which of them can beat the other to land an interview with this NFL star, who heard of the wager and said, "I don't even know who that guy is. … If the bet was made, she'll probably win because I know nothing about that other guy."
5. Answer: This disgraced former baseball star is reportedly endorsing a new softball bat called "Juiced."
Question 1: Who is Vince Lombardi?
Question 2: Who is Sanchez, four wins to two?
Question 3: Who is Kobe Bryant?
Question 4: Who is Michael Vick?
Question 5: Who is Jose Canseco?