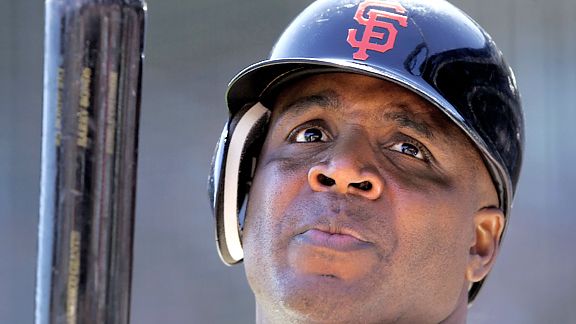 AP Photo/Marcio Jose SanchezBarry Bonds, who is dealing with his own legal troubles, makes Page 2's All-Legal Team.
We, the jury, in the above entitled action find you guilty of curiosity and good taste and affix your punishment at time served. Plus however long it takes you to read the All-Legal Team.
David Bailiff: The current Rice football coach can tell you that his is one of the toughest jobs in the country, but he'll probably admit that the admissions standards and the school's small size do have upsides. Specifically, coach Bailiff's players seldom encounter deputized bailiffs, whose jobs normally involve keeping the peace in a courtroom.
Johnny Bench: A reasonable man might assume that because of his real name and his nickname ("The Little General), Bench was the chief justice of the Reds' kangaroo court, the informal, in-house tribunal that sentences players to fines for everything from bad haircuts to missing cut-off men. But there's little evidence to suggest the catcher was in charge. The kangaroo court tradition is most often associated with the guy the Reds traded to Baltimore in December 1965, Frank Robinson.
Barry Bonds: The slugger hasn't had to post bond or anything except denials of steroid use, and most experts think the feds will have a hard time convicting him of perjury -- especially in the Northern District of California -- when his trial gets going in March.
Margaret Court: One of the most underrated athletes in history, Court ruled tennis with an iron fist. And a versatile one, for that matter. She was born a lefty but switched to the right hand as a kid and never regretted it. Her total of 24 Grand Slam singles titles remains a record 37 years after her final victory. She won the natural Grand Slam in 1970, claiming the Australian, French, Wimbled and U.S. Open championships in the same calendar year. We could go on and on, but since the Constitution requires a speedy process, we proceed.
Darnell Dockett: Much like players who majored in criminal justice, the mention of Dockett's last name during his Florida State playing days (2000-03) evoked guffaws from cynics as the Seminoles racked up court appearances and wins in seemingly equal measure. Dockett himself was arrested on a felony theft charge while at FSU but pled to a lesser offense and has generally been a solid NFL citizen. On the field, he helped the Arizona Cardinals come within a hair of a Super Bowl title two seasons ago.
Lawyer Milloy: After a distinguished career, the 37-year-old defensive back may have to step aside, citing conflict of interest. (If he's interested in getting a continuance, which NFL executives, according to some reports, aren't.) Wide receivers will not object. Milloy was the co-captain of a Super Bowl-winning Patriots defense a decade ago and a solid player thereafter.