Talk about pressure.
The kettle cannot get hotter than the one boiling Sunday on frozen Soldier Field because the leader of the free world (perhaps not counting the Red States) has expressed his desire to attend the Super Bowl only if "his" Chicago Bears beat the Green Bay Packers for the NFC Championship and entry into the "Big Game," as it is called by everyone who has not paid the NFL to use the term "Super Bowl."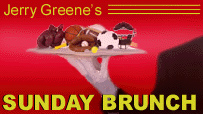 Yes, President Obama wants his Bears in the Super Bowl and has even called the score, Chicago 20, Green Bay 17.
That's pressure. Except which team should be sweating more in the sub-freezing temperatures?
If the Packers win, as they are favored to do, they have gone against their President. If they even want to think about health-care coverage in their golden years, they had better give that some careful thought. After all, has a football team ever been vetoed?
But if the Bears lose, as they are favored to do, they have let their President down. Remember in "West Wing," how they always would say: "I serve at the pleasure of the President of the United States?" Doesn't that mean the Bears must win?
And then there is the AFC Championship Game, too, with the free-quoting New York Jets invading Pittsburgh to take on the Steelers. Apparently the President doesn't care who wins that one, so no pressure there, right?
Let's briefly think about each game (without a single "X" and few "O's" involved) before I defy the President by telling you who will win and by the exact score: