Whether it's a feud brewing between Lil Wayne and LeBron James and Dwyane Wade or a Green Bay, Wis., radio station banning all Chicago songs, sports and music were intertwined more than ever this week. Here's a look at what's been making news: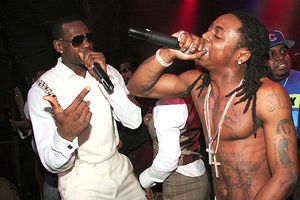 Johnny Nunez/WireImageLeBron James and Lil Wayne in happier times at James' 21st birthday party.
Lil Wayne vs. Heat
In a Rolling Stone interview to discuss his life and career after leaving Rikers Island prison last year, rap star Lil Wayne says he was upset about being snubbed by Miami's LeBron James and Dwyane Wade at a Miami Heat game against the New Orleans Hornets.
Unfortunately, we can't repeat much of the explicit excerpt in the Feb. 3 issue. Even paraphrasing is difficult, but Lil Wayne said he's a bigger Hornets fan despite "gliding through a model-filled subterranean VIP chamber at a Miami Heat game" and being a courtside regular in Miami, where he has a home. RS stated Lil Wayne is friends with Hornets guard Chris Paul, who visited him in jail.
But the New Orleans native expressed his displeasure over James and Wade not talking to him after that game after spending so much money on expensive tickets.
"At least come ask me why I'm not rooting for you," Lil Wayne told Rolling Stone.