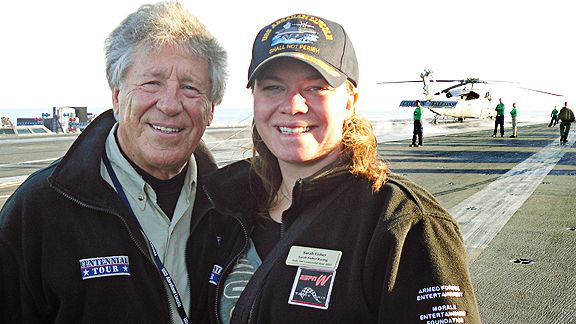 Courtesy of Indycar Mario Andretti and Sarah Fisher said they will never forget their goodwill tour.
Sarah Fisher and Mario Andretti were among the participants on the Indy 500 Centennial Tour -- on a 10-day goodwill trip to Europe and the Middle East with the goal of boosting the morale of more than 10,000 servicemen and women. The team also included fellow Indianapolis 500 winners Johnny Rutherford and Al Unser Jr., plus Indy 500 veterans Davey Hamilton, Larry Foyt and Firestone Indy Lights race winner Martin Plowman.
Sarah's diary: They told me at the beginning, that I would be sad to go home even though I would miss my spouse, family and friends. They were right. The past 10 days have been the most incredible experience I have been a part of. To say the least, I will be forever grateful for our military and their dedication to keeping us safe. Three troops were in the hallway at the airport as I was making my way to the Indianapolis gate, and I couldn't help notice the difference in my gratefulness toward them just seeing them on their way. Yes, this trip has changed my life.
Mario Andretti said during the whole tour that being in the military was the noblest profession. I couldn't agree more.
The impact of being a part of the Indianapolis 500 Centennial Tour in the Middle East, has made a massive difference in the respect and thankfulness for the men and women who serve on behalf of our country. You really think you get it, know what lies ahead for them, but when you see it up close and personal it delivers a new dimension of understanding.