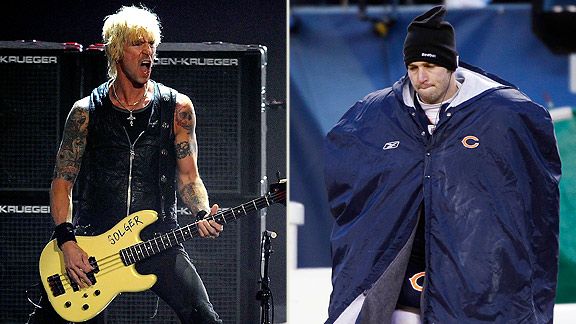 Getty Images
I didn't have "skin" in either game Sunday, as I am a Seattle Seahawks fan. But I am also an NFL fan, and in saying that I always look forward to the NFC and AFC championship games as the culmination of a whole lot of games watched from my couch or wherever else; I wouldn't miss these games.
I'm in Los Angeles at the moment, and being down here and being a football fan is kind of like what you see in those DirecTV commercials: Fans of different teams, congregating in one house to watch football. I was invited to a friend's house for the second game. He is a lifetime New York Jets fan. Two other friends (a San Diego Chargers fan and a Dallas Cowboys fan) and I were meeting at my house to ride our Harleys out for the game.
Oftentimes, these games are much better to watch and more hotly contested affairs than the actual Super Bowl. These games are the last actual test of blood and guts. The rule of "any given Sunday" sort of gives way to these last four teams being the best of the best. There are fewer moments of chance because every player is giving everything they have. This was the weekend to go big or go the hell home.
It is cold, in Southern California terms, right now. When I ride my motorcycle in Seattle in wintertime, I just simply have the right warm clothes on hand. … At a moment's notice, I can leave my house and have the right attire. Down here in L.A., though, it would be overdoing it to have winter gloves, thermal underwear, balaclavas and huge coats at the ready. Luckily for me, though, I have been climbing high and snowy mountains down here and have all of that stuff. The point is, during the Bears-Packers game, I was sort of going from one room to another putting my motorcycle riding attire together; checking in on the game every time I passed through the TV room (which was a bunch of times, about every 30 seconds or so).
I guess it was because of all of this to and fro that I didn't notice until a little ways into the third quarter that Jay Cutler wasn't behind center for the Chicago Bears. I then sat and watched, wanting to get the story of why the Bears quarterback wasn't playing. The commentators never really filled me in. It was a mystery to me. To say I was shocked would be overstating it -- but I was mystified. I thought I must have missed something.