Having a world-class athlete in your family tree doesn't guarantee prep success -- but it doesn't hurt. ESPN The Magazine contributor Stacey Pressman spotlights six the prep stars with serious sports pedigrees.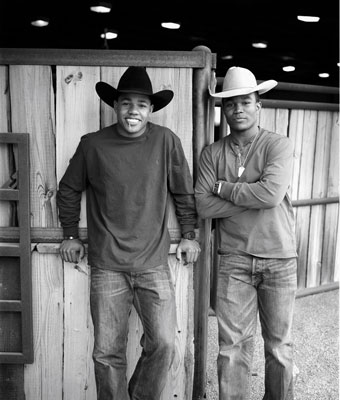 Andreas Laszlo Konrath photo
Barry Sanders Jr. and Sterling Shepard
Juniors at Heritage Hall, Oklahoma City
Class of 2012: Undeclared
Prep teammates Barry Sanders Jr. (right) and Sterling Shepard share a second football brotherhood. Sterling's dad, Derrick Shepard, was an NFL receiver for five years. He died of a heart attack in 1999. Barry shares a name with one of the greatest runners in NFL history. Recruiters are salivating because Barry and Sterling play the same positions as their dads.
Barry Jr.: "It's definitely an advantage in life having this name, but when it comes to advantages in recruiting, I don't think so. What coaches see on film is what they see on film. Dad doesn't give football advice. He just doesn't put emphasis on trying to make me a football player. He enjoys watching me, he supports me, but he couldn't care less if I played or not."
Sterling: "I resemble him in a lot of ways. He was a great punt returner. He had great vision, but he wasn't that quick and I'm not that fast, either. I have great vision and see the holes. He'd also catch anything that hit his hands. My uncles tell me all the time, 'You're a lot like him.' "
---
Austin Rivers
Senior at Winter Park (Fla.) HS | Class of 2011: Signed with Duke
The consensus No. 1 hoops recruit in the country, Rivers is doing all he can to break free from his father's shadow. That shouldn't be tough: Scouts peg the guard as a future No. 1 pick in the NBA, and Duke, his next stop, doesn't lack for exposure.
" 'Doc Rivers' kid' -- that's all people used to call me. That's all I was known for: 'Doc Rivers' kid. Blah, blah, blah.' But it's always motivated me to get out of his shadow and create my own name. I've worked as hard as possible to make my own name, and I feel like now people kind of look at me as my own person. They now see me as Austin, and now that I have my own name, I'm determined to keep it. And I'm never worried about any expectations Dad has for me, because at the end of the day, my expectations are higher than anybody's."