Jason Statham knows what you want: Lots of blood. A high body count. Bullets flying everywhere. Wall-scaling. Drop-kicks. A fist to the jaw. Maybe two.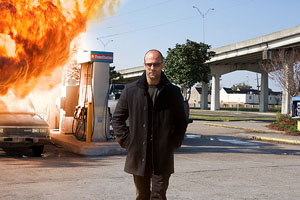 Courtesy of CBS FilmsJason Statham did all his own stunts in "The Mechanic," but that's nothing new.
He delivers on all in his latest film, "The Mechanic," a high-speed picture that has him playing an assassin-for-hire whose skill is that he makes all of his hits look like accidents.
And most importantly, he does it all himself. You won't see a body double in this film. Matter-of-fact, you haven't seen a double in any of the films that Statham has done.
The 43-year-old English actor and martial arts enthusiast laughs, and jokes that he only does his own stunts and fight sequences because it's what's expected.
Here's what else he has to say about "The Mechanic," which opens the Friday.
You do your own stunts and fight sequences in all your films. Why is that important to you?
"Well, years ago I did an action film and it was the first film I did, and it had a small budget and I did a lot of martial arts and stuff and I just ended up doing a lot of stunts. They didn't have a lot of money, they couldn't afford a stunt man -- a stunt double -- and I ended up doing all my own silly stunts and from that day on it was a hole that I dug for myself. And now if I don't do them, they go, 'well ... I thought you did all your own stunts ...' So now my ego is so overly attached to the fact that I did stunts on that first film and now I'm screwed for life."