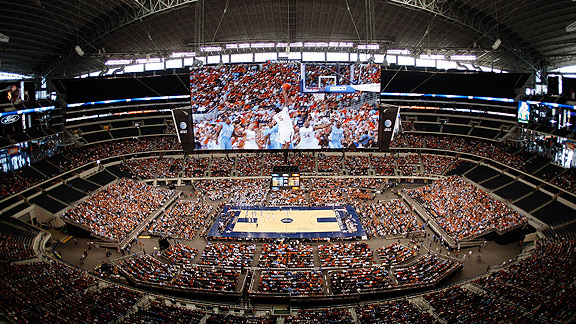 Ronald Martinez/Getty ImagesCowboys Stadium hosted a basketball game between Texas and North Carolina in 2009.
So, North Carolina and Michigan State want to play a basketball game aboard an aircraft carrier. It's a zany venue for college basketball, one not easily topped in originality (though it's not likely to break any attendance records).
Page 2 examines five other unusual hoops sites:
1. Texas Hall, Arlington, Texas. It's not a gym at all -- it's a proscenium theater that seats 2,709 for concerts, plays and the like. Come game day, the University of Texas at Arlington basketball teams take the stage. No, literally -- a basketball court is built on the theater stage with bleachers alongside it, expanding seating to 3,309. In 1997, Sports Illustrated named it one of college basketball's best places to watch a game. But with a new arena on the way, this is the last season games will be played there.
2. The Astrodome, Houston, Texas, January 1968. The dome showdown between Houston and UCLA set the bar for big-time college basketball. A record 52,693 fans shattered world basketball attendance records, and the game was college basketball's first ever televised in prime time. Houston got the upset, handing UCLA its first loss in two years thanks to 39 points from Elvin Hayes. (UCLA got revenge in that year's Final Four, stomping Houston by 32.)
3. Cowboys Stadium, Arlington, Texas. About 35,000 fans watched North Carolina and Texas play in December 2009 in the 110,000-capacity football arena. The stadium's massive scoreboard was nearly the length of court.
4. Iraq, various. Each year since 2005, a handful of college coaches spend about a week in Iraq -- and since 2009, Afghanistan -- to coach a tournament in which U.S. servicemen and women play as part of the USO's Operation Hardwood. Past coaches have included Tom Izzo, Kelvin Sampson, Tubby Smith, Gary Williams, Fran Fraschilla and Steve Lavin.
5. The White House, Washington, D.C. President Barack Obama, famously an avid basketball fan, had a basketball court built on top of the presidential tennis courts. He's played gracious host and tenacious opponent -- or teammate, depending on the game -- to numerous basketball stars, such as UConn's Maya Moore.
Any others we should know about? Let us know in the comments.