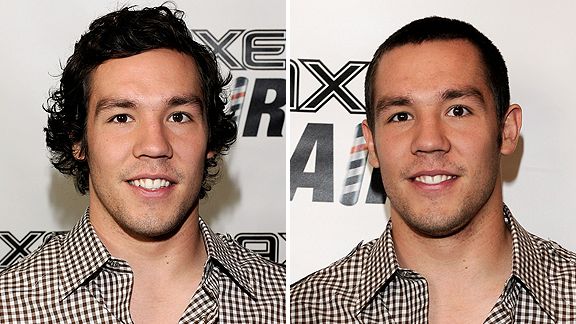 Getty ImagesSam Bradford said it's a tradition for him to cut his hair off after the season.
Sam Bradford may be known for his impeccable passing accuracy, but he also has really great hair -- shiny, brunette, curly hair. As of Wednesday afternoon, that hair is gone.
After setting several NFL rookie records this season as the quarterback of the St. Louis Rams, Bradford garnered the attention of not just fantasy football fans, but the kind of attention that Tom Brady and Mark Sanchez get -- the endorsement kind.
As the new spokesperson for AXE Hair, Bradford left Oklahoma, where he's been spending the offseason, and flew to New York to help launch the AXE Buzzed Look Cream + SPF 15 on Wednesday. And in honor of that, he got a haircut.
Bradford left his hometown with shaggy locks but will return with a short buzzed 'do. Lucky for him, certain people in his hometown won't seem to mind.
"I think all the girls back home were really excited when I told them I was getting my hair cut," said Bradford from John Allan's Tribeca salon in New York. "They prefer the short hair."
It's been tradition for Bradford since high school to grow his hair out during the football season and cut it at the conclusion.
"I'm a very superstitious person and somehow my hair fell into that," Bradford explained. "It's just something that I do. I don't touch it on game days. I can't put water in it. I can't do anything to it."
However, all of that might be changing next season for the NFL Rookie of the Year candidate.
"If you've seen my hair throughout the season, it got a little out of control toward the end," Bradford admitted. "I feel like the older I get and as a professional athlete now, I probably need to take a little bit more pride in my appearance. Next year I might have to break down and actually fix my hair before a game."
While he said he's still planning to grow his hair out next season, it will be the first time he'll use a hair product, which is bound to go well in the locker room.
"No matter what, my teammates love to give me crap about everything from what I wear to my hair," Bradford said. "I'm definitely expecting to get some flack about this."