Sitting at the awards podium alongside women's ski slopestyle gold medalist Kaya Turski and silver medalist Keri Herman, you'd think bronze medalist Grete Eliassen would be unhappy she didn't win the title.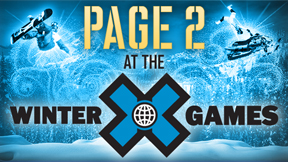 But, in fact, all three acted like winners. It's kind of strange when you think the sole point of competition should be winning.
But not to Eliassen.
When the 24-year-old Salt Lake City skier got a chance to talk, she focused more on her recently released movie about the sport of women's skiing, "Say My Name."
"Yes, I can see it might look strange, but we're all friends. And we're here to get more girls out there to ski," said Eliasson, who has Winter X Skiing SuperPipe gold (2005, 2006) and silver (2007) as well as Slopestyle silver (2009). "We get underreported compared to the men, so it means that more little girls don't know about our sport. So that's why I made the movie."
It turns out that Turski, Herman and a host of other top female skiers make appearances in the project that Eliassen would like to do once a year.
"I'm not trying to be a movie star. I'm just a person who wants people to see that what we do is quality," Eliassen said. "Once you get the girls on the mountain, they get a taste of the powder and they fall in love with it, like I did."