OK, quiz time. SABR Day 2011 is:
A. The day "Star War" fans dress up as Luke Skywalker and Darth Vader and duel with their flashlight-powered light sabers;
B. The always-anticipated, highly wacky annual gathering of the Society of American Bone Radiologists;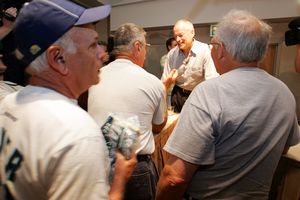 AP Photo/Kevin P. CaseySABR members, like these at an annual convention meeting "Ball Four" author Jim Bouton, are serious about their baseball.
C. The second annual celebration of all things baseball by men and women who have often been referred to as (take your pick) statheads, geeks, nerds, seamheads and "the pocket-protector brigade."
If you picked "C," put an "HR" on your scorecard and find a chapter of SABR (Society for American Baseball Research) near you, where SABR Day II will be celebrated Saturday in cities across the U.S., Canada, the Caribbean and in a London pub.
While the rest of the sports world is gearing up for next week's Super Bowl in Texas, or is hip deep into the college basketball, NBA or NHL seasons, as many as 1,000 hardcore baseball followers are expected to gather at 36 venues -- ranging from ballparks to eateries to the Hall of Fame in Cooperstown -- to talk about baseball.
In January. With many parts of the country covered in snow. When Opening Day can seem as distant as a Pirates pennant.
In Cleveland, attendees will hear a presentation on "The Impact of Foul Territory on Srikeouts." In Milwaukee, they'll be able to talk to GM Doug Melvin about the Brewers' offseason moves. In San Diego, there will be a discussion of "Ernest Hemingway and Baseball." And in Denver -- no matter what the weather -- they'll gather for a game of catch outside in the parking lot.